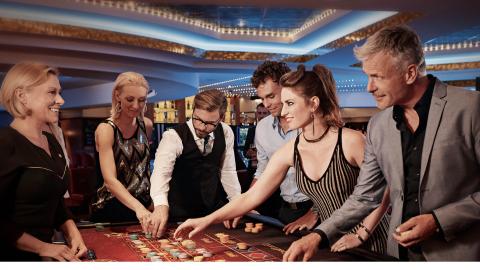 Smart clothing is welcomed.
Dress code
"Clothes make the man" and give off a particular vibe. The outfits people wear are part of what make our casino atmosphere so beguiling. To ensure that all our guests can enjoy comfortable and sophisticated surroundings, we take care to maintain a clean and cultivated look.
We very much appreciate it when we can welcome guests who are well-dressed in clothing that fits in with the casino's atmosphere. Dirty or badly smelling clothing, a lack of shoes, scruffy clothes, sweatpants and overly revealing outfits are all inappropriate. For security reasons, we are happy to store headgear, jackets, rucksacks, large bags and umbrellas in our cloakroom.
In addition to clothing, our actions, behavior towards others and level of respect all play a crucial role.
After all, behavior is where our true style and true character are revealed.
If your clothing and/or behavior does not meet our expectations, you may be denied entry to the casino.