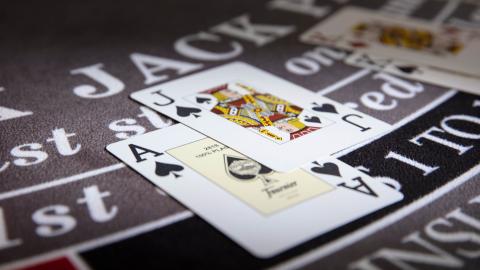 Find your luck where the ace and jack meet.
Play blackjack in Zurich
Blackjack
Also known as the card game 21 or 17+4. The aim of the game is to get a hand worth closer to 21 than the bank. You also win if the bank's hand is worth more than 21 and you're still in the game. Decide whether you want to hit or stay to beat the bank and win.
Games offered
4 blackjack tables
Three, with BlackJackPot
Minimum bets starting from CHF 10
Opening times
Every day from 2:00 pm
Additional games
To participate in the additional games, you need to place a bet in the basic Blackjack game.
 
Swiss Casinos Jack
In the additional game "Swiss Casinos Jack", you bet on the bank getting a Blackjack. If the bank gets a Blackjack featuring an actual black jack, you get a payout of 50 to 1. If the Blackjack features only red cards, the payout is 25 to 1. Every other Blackjack is paid out at 10 to 1.
Poker bet
Here, you bet on a flush, straight, or three of a kind. To win, all you need is your first two cards dealt face up from your box and the first card dealt face up from the bank. If these three cards form a winning combination of a flush, straight, or three of a kind, we'll pay out on your bet on the additional field at 8.5 to 1.
Bust
Win 2.5 times your bet on the "Bust" field if the bank's hand is worth over 21.